Website design
I use the powerful and design led templates of Squarespace for straightforward business and portfolio sites on a limited budget. However, by "straightforward" I do not mean basic. There are many advanced features and a solid e-commerce system built in. There is plenty of room for customising the design even within the same template. And there are loads of them. Since there is no need for external engineering, the cost of a finished, delivered website is relatively low. It does of course depend on the amount and variation of content and how much design is put into it from myself. I will build the website from start to a fully working live site which can then be taken over by the client using the content management system (CMS) or continued to be maintained by myself. The sites are all mobile and tablet friendly (responsive design).
Below are some examples of website I have designed and built using Squarespace templates. This website is also a Squarespace site.
See also logo design and print design pages.
Above: Website for Harry Sherrard, public speaker, who offer talks on motoring and historical topics. The website gives an insight into the person Harry Sherrard and an overview of current and past talks with showreel and audience reviews videos.
Above: Brochure website for Farrier House, high-end student accommodation in Worcester. The website highlights the unique features of this student living space. The building will be ready for the September 2017 intake of students. www.farrierhouse.net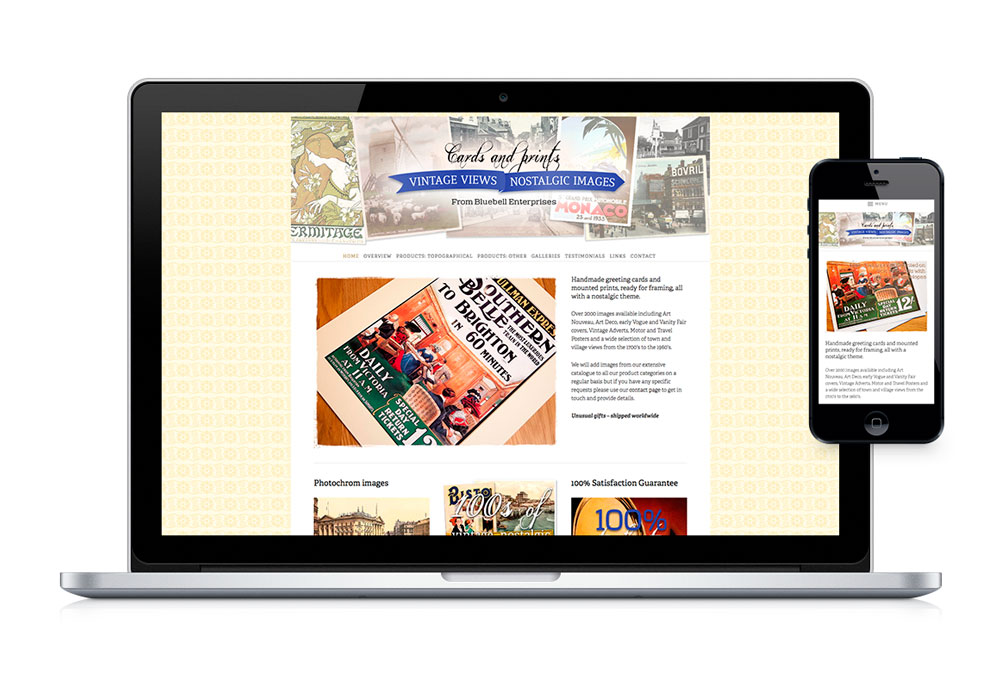 Above: A shopping website was designed and built for Bluebell Enterprises, who sell nostalgic and vintage cards and prints through www.vintagepics.co.uk.
Above: A small, simple brochure website for DB Tractorman (Harry Sherrard) showing restored David Brown tractors for sale. A quick project at low cost. Logo design was part of the assignment. www.dbtractorman.co.uk